JUNIOR MEMBERS
FREE MEMBERSHIP FOR ALL JUNIORS AT GEORGES RIVER GOLF CLUB!
Junior membership applies to boys or girls aged 12 to 18.
Georges River Golf Course's Junior Development Program introduces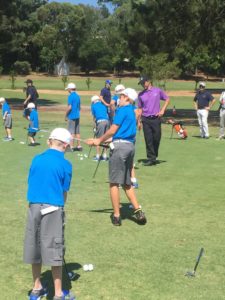 young players to the game. It also provides young golfers access to a GolfLink handicap.
In 2016 Georges River Golf Course has introduced a Junior Golf Academy –  a combination of playing on the course and instructional lessons from our qualified professional staff. In our program, young golfers will learn everything they need to become a successful golfer – from technique & coaching, rules, golf etiquette, different types of play and scoring.
School holiday clinics, led by our team of Professionals, are also being offered in 2016 for both Junior Members and other young golfers who may wish to improve their game.
DONT FORGET THAT OUR JUNIOR GOLF PROGRAM ALSO INCLUDES FREE JUNIOR MEMBERSHIP TO GEORGES RIVER GOLF COURSE!
CLICK HERE FOR THE DECEMBERR 2016/JANUARY 2017 SCHOOL HOLIDAY PROGRAM
Georges River participates in Australia's national junior golf program "MyGolf" for kids between the ages of 5 and 15.  A fun, healthy and safe way to start learning the basics of golf.
Our introductory junior golf program focuses on the development of basic golf skills in a safe, positive and supportive environment whilst also developing self-discipline and honesty – but mostly LOADS OF FUN!